Genesis Crossovers Are Coming!

Inventory
Drum roll, please. You may already be familiar with Genesis, the luxury brand of Hyundai. You may have oohed at the stately G90 or aahed at the sporty G70. And there's that Goldilocks sedan of the G80 that is the best of both worlds. All of these luxury sedans have debuted in the last few years. But Genesis is just getting started. Because the Genesis crossover SUVs are coming. And they look amazing!
2020 Genesis GV80
The first crossover for the Genesis lineup is the GV80. You'll see the 2020 model come to dealerships at the beginning of next year. The name is reminiscent of the Genesis G80, the midsize sedan that will receive a next-generation upgrade the same year. The parallels probably don't stop there, as we expect to see both rear-wheel drive and all-wheel drive on the GV80, as well as the same engine lineup: a 3.8-liter V6, a twin-turbo 3.3-liter V6, and a 5-liter V8.
That much we knew, but Genesis has given us enticing new details that show that the GV80 really is a crossover set apart from all others. LED lighting has revolutionized headlights, making them smaller and smaller even while they get brighter. Genesis has taken that trend to its natural conclusion, making the Genesis headlights and taillights more like two illuminated slits each. Beyond that, the GV80 is all flowing lines that remind us of the best-looking bullet trains, or even a bullet itself.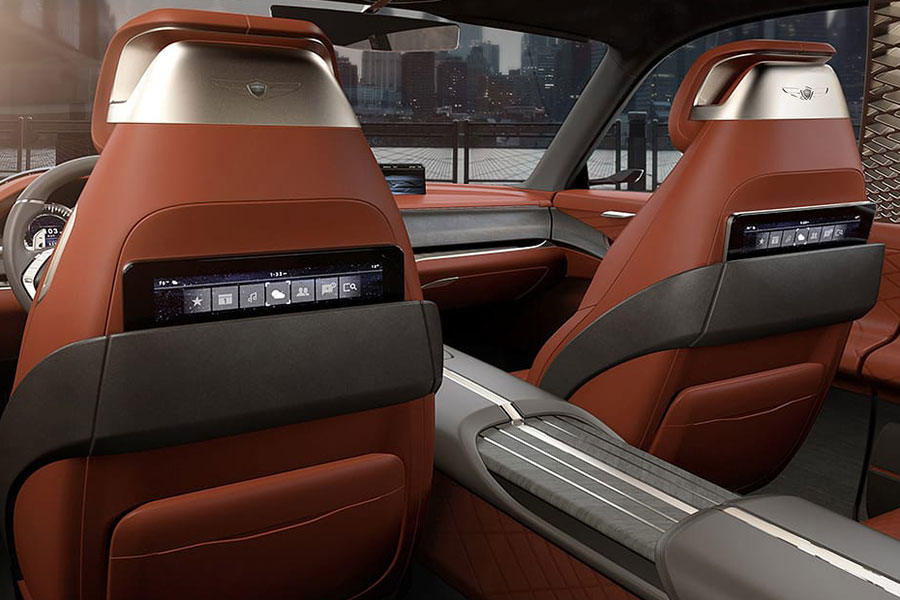 Inside the cabin, there is a driver instrument cluster that's out of this world. It's 22 inches and sits above the dash. With futuristic OLED technology, the image is crystal-clear. But it's not just the front seats that get the goodies. The center console runs the length of the cabin, tidily dividing it into four areas. Each person can access the controls to personal entertainment options. That sounds a bit like the setup on an airline flight, but with plenty of legroom, better seats, quieter cabin, and luxury all around you. Okay, that's not much like an airline flight after all.
The GV80 will be powered by a hydrogen fuel cell powertrain, cutting emissions and fuel costs. Right out of the gate, the GV80 will be an eco-friendly option that still stands apart from the hybrids and plug-in hybrids that seem to be all the rage.
2021 Genesis GV70
A year after the GV80 debuts, expect to see a compact SUV hit the market. That's the Genesis GV70. Details are sparser for this model, but expect the Genesis GV70 to be to the G70 what the GV80 is to the G80. Also look ahead to an electric sports car and more innovations among luxury sedans and crossovers.