2019 Genesis G90

Inventory
If you think a large luxury sedan should be the smoothest, quietest drive money can buy, then you need to try the 2019 Genesis G90. To be sure, its 365-horsepower twin-turbocharged V6 or 420-horsepower 5-liter V8 are potent powerhouses in their own right, but the ride they provide is calm, composed, unruffled, and flawless. On top of that, this Genesis offers outstanding infotainment, comfortable seating for five, and almost peerless safety scores, and a warranty that's sure to put your mind at ease.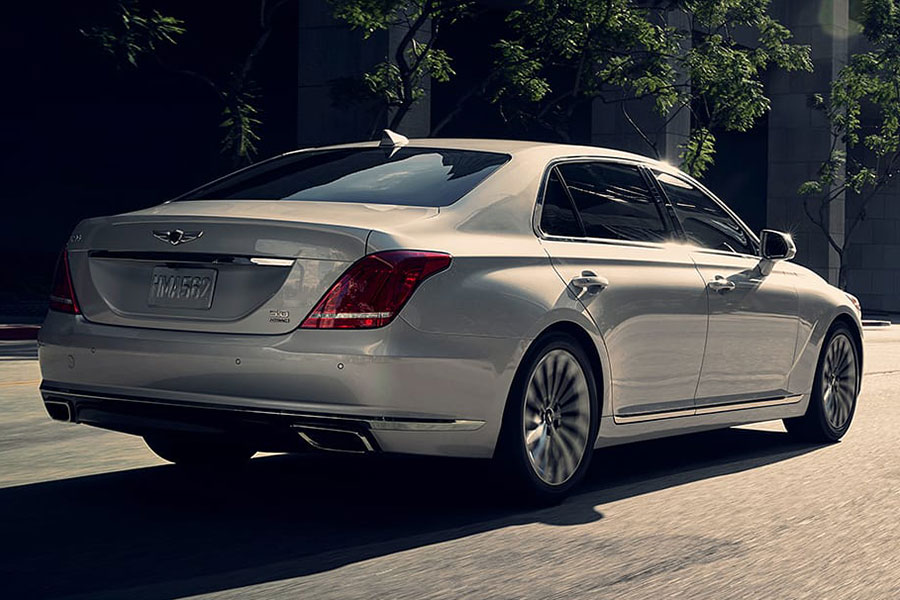 Refined Ride
We introduced the Genesis G90's two powerful engines. Let's talk about the way the car handles itself on the road. First of all, that refined suspension makes even the toughest roads bearable and an average road smooth as silk. The transmission shifts admirably through the gears with nary a hiccup. If you're looking for sporty, a large luxury sedan probably isn't the best class for you. But, even so, there's no shortage of power in the 2019 Genesis G90. To top that off, like most luxury sedans, the G90 is super quiet.
Easy-to-Use Infotainment
The Genesis G90's infotainment system comes standard with a huge 12.3-inch touch screen, 17-speaker Lexicon audio system, satellite radio, Bluetooth, several USB ports, and navigation. If there are little passengers in the equation, an optional rear-seat DVD entertainment system with two 10.3-inch screens is available.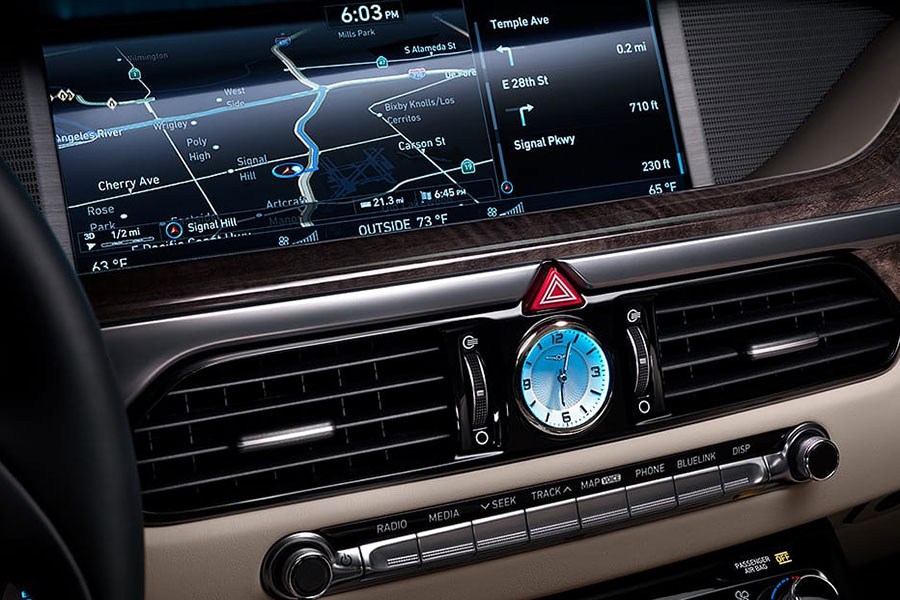 We like that there are physical knobs and buttons to control some of the infotainment system's functions. The system makes sense and is easy to use. While there is no Apple CarPlay or Android Auto, your phone and the G90 should have no problem communicating with one another.
Luxury Seating
Cars this comfortable are rare. Soft and pliant Nappa leather graces the seats, armrests, and even door panels. You'll feel perfectly supported in these highly-adjustable seats that offer either ventilation or heat. The dials to give you just the right balance between support and comfort aren't some marketing gimmick. They really do cater to every height and preference. The wood trim is real. The stainless-steel speaker grilles are nicely set off by the metal switches and buttons. Everything is beautifully assembled, expertly fitted, and the combined effect is easy on the eyes.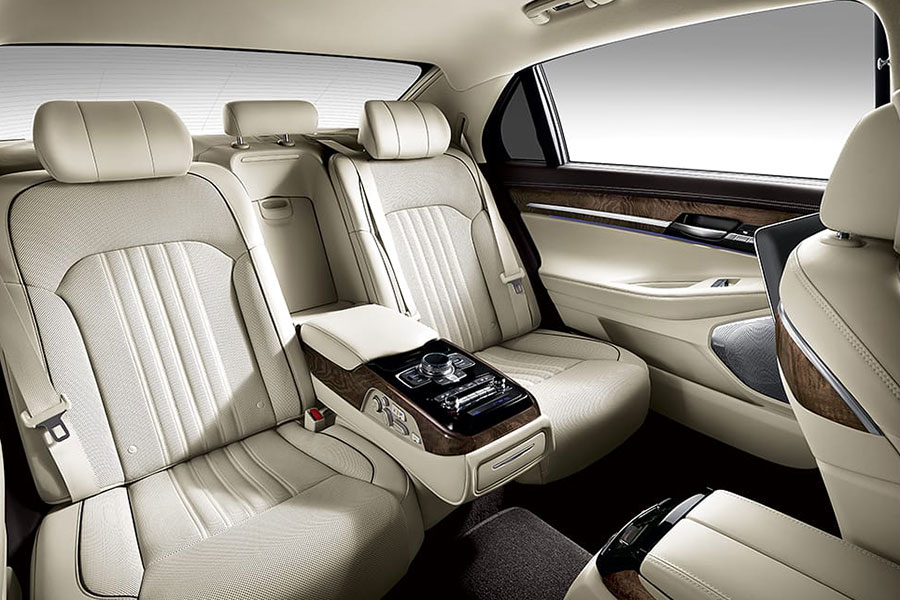 A Gold Star in Safety
They don't give out gold stars for safety. But if they did, the Genesis G90 would earn one. What this Genesis sedan did receive was a perfect score from the Insurance Institute for Highway Safety (IIHS). As a result, the G90 earned a Top Safety Pick+ accolade for its Good scores (the highest possible) on all six safety crash tests. And the G90 offers plenty of active safety features to prevent crashes in the first place, such as head-up display, driver drowsiness monitoring, adaptive cruise control, forward collision warning, automatic emergency braking, pedestrian detection, blind spot monitoring, rear cross traffic alert, lane keep assist, 360-degree camera, front and rear parking sensors, and automatic high beams. No car on the road can beat these safety ratings and all those features means you're far less likely to even need them.